When Hiring Talent, Is Your Process Helping or Hurting?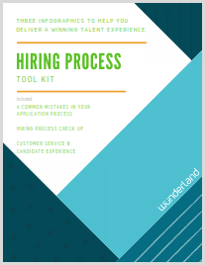 Good talent is critical to the success of any organization. Is your hiring process helping or hindering your ability to attract, screen, and retain the best talent?
Use these three infographics to identify common errors in the application process, assess your current talent acquisition workflow, and delight your candidates as you do your customers.
Download your tool kit for these infographics:
6 Common Mistakes in Your Application Process
Hiring Process Check Up
Customer Service & Candidate Experience