You Want to Utilize a Staffing Agency. Now What? 12 Questions to Ask When Choosing a Staffing Agency.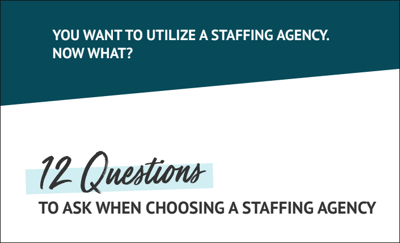 Whether you need flexible talent for short-term needs or projects, or you need to fill critical openings on your team, finding exceptional talent has never been more difficult or time consuming. Partnering with a staffing agency may help alleviate these issues. This ebook will help you ask the right questions to ensure you find the staffing agency best suited to meet your hiring needs.
In this ebook:
How strong is the agency's recruiting reach?
Does the staffing agency specialize in the talent you require?
How well does the agency screen and assess candidates?
And 9 more important questions to ask when choosing a staffing agency!